Mega Plaza Departments
There are several departments in Mega Plaza, each uniquely designed to better serve your needs. Each department is headed by a manager with many years of experience.
At Mega Plaza, we strive to be the best and look forward to a visit from you - our faithful customer and you will definitely not be disappointed.
White Goods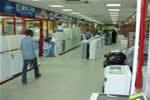 Situated on the ground floor, the white goods department stocks a wide array of refrigerators - ranging from the simple tabletop fridge to double door fridges, chest freezers, cookers - both electric and gas combinations, washing machines, air conditioners - window units and split units, water dispensers, gas cylinders and outdoor grills and barbecues. This is truly your one stop shop for all things "white."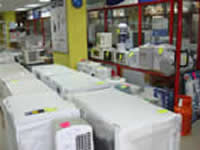 As with the "Mega Standard" the prices at white goods are very competitive, with exciting discounts, delivery to anywhere within the Lagos metropolis, installation, a three months warranty on all products purchased and qualified repair and maintenance personnel.
Mega Sport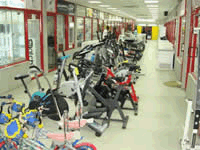 At the Mega Sport store, we stock a wide array of sports equipment. Our stock inclues treadmills and Nautilus exercise and rowing machines, ping pong and pool tables, movable basketball hoops, basketballs, football, running shoes, football boots, mountain bikes and many more.
Office and I.C.T. Equipment
This department stocks a vast array of office and I.C.T. equipment ranging from the latest computer desktops, laptops, printers (deskjets, mono and color laserjets) and fax machines, to printer ink and toner cartridges as well as photocopiers, fax, uninterruptible power supply (UPS), closed cuircuit television (CCTV) cameras, stabilisers/automatic voltage regulators, office safes, PABX, generators, fire extinguishers and many more. They also have very experienced and qualified technicians who will carry out your equipment installation for you to a very high standard.